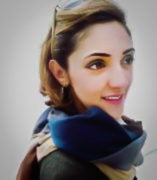 Amanda Jadidi D'Urso
Graduate Student
Political Science
About
Amanda Jadidi-d'Urso began her doctoral studies in political science in 2015, where she studies American politics and quantitative research methods. She received her Bachelor's of Arts from the University of Virginia in 2013 after finishing in three years with two majors—political science and Middle Eastern studies. She spent the next two years working on local political campaigns, and then working as a post-baccalaureate, collecting and coding data for a new database related to state-level immigration legislation—a project spearheaded by UIC professor Alexandra Filindra (as well as University of Rhode Island professor Shanna Pearson-Merkowtiz).
She is currently interested in studying policy diffusion of state-level immigration legislation. She is also interested in political psychology, and in meta-analyses, which she believes can be a useful tool to evaluate political science research.
In her spare time, Amanda enjoys rock climbing and learning new types of cultural dances.