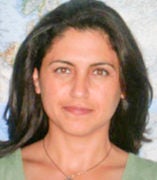 Sultan Tepe, PhD
Associate Professor
Political Science
Address:
1007 W. Harrison Street
Email:
Office Phone Voice:
(312) 355-0128
About
Fields of Interest:
Comparative Politics, Democratization, Religion and Politics, Political Parties, Radical Political Groups, Research Methods, Survey and Questionnaire Design to Study Religion and Political Participation, Judicial Reforms, Middle Eastern Politics.
Selected Grants
United States Institute of Peace, USIP Grant, -
University Of Illinois at Chicago, Campus Research Board Grant, -
University Of Illinois at Chicago, Office of Social Science Grant, -
Ford Foundation Social Science, Concept Research Grant, -
Selected Publications
"The Perils of Polarization and Religious Parties: The Democratic Challenges of Political Fragmentation in Israel and Turkey." Democratization. 20:5 (2013). DOI: 10.1080/13510347.2013.801254.
"Moderation of Religious Parties: Electoral Constraints, Ideological Commitments and the Democratic Capacities of Religious Parties in Israel and Turkey." Political Research Quarterly, February 2012, DOI: 10.1177/1065912911434473
"(Not) Getting Religion: Has Political Science Lost Sight of Islam?" Politics and Religion. 4:2 (April 2011).
Nation-State in Islam, Encyclopedia of Islamic Political Thought, Princeton University Press, 2011.
"Serving God through the Market: The Emergence of Religious Consumptionspaces." Islamic Marketing, Gillian Rice and Ozlem Sandikci (eds), Edward Elgar, 2011. (peer reviewed)
Beyond Sacred and Secular: Politics of Religion in Israel and TurkeyStanford University Press, 2008.
"Politics between Market and Islam: The Electoral Puzzles and Changing Prospects of Pro-Islamic Parties."  Mediterranean Quarterly. 18:2 (Spring 2007), pp. 107-135.
Notable Honors
-, Women Fellowship, Association of American University
-, Malcolm Macdonald Fellowship, University of Texas at Austin
-, University Continuing Fellowships, University of Texas at Austin
-, Teaching Excellence, University of Texas at Austin
Education
PhD University of Texas at Austin, 2002
Professional Memberships
Comparative Religious Party Support I, 2003
Comparative Religious Party Support II, 2005
Research Currently in Progress
Comparative analyses of religious parties, (im)moderation of religious parties and groups, Political Manifestations and Civic Engagements of Religious Identities in Global Cities.