Student Highlight: Allyson Nolde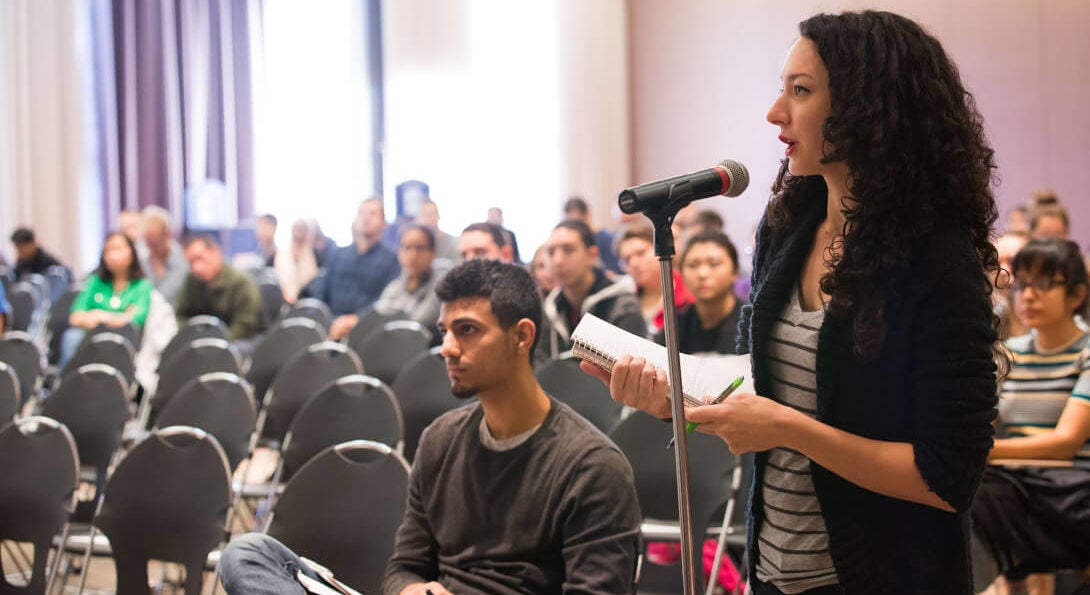 Expected graduation:  May 2017
Allyson Nolde restates the issues, for the candidate panel, at the 2016 National Student Issues Convention at UIC.  Photo credit-Elizabeth Monge.
Allyson is a graduating senior at UIC pursuing a Bachelor of Arts degree in Political Science with a concentration in Urban Politics. Allyson came to UIC in January 2015 as a transfer student with her Associate of Arts degree from Truman College.  She intended to pursue a Communications degree but discovered her passion for politics during her POLS 101 American Government course.  She instead, decided to pursue a degree in Political Science.  Since then, Allyson has interned with grassroots organizations such as Illinois PIRG, a nonpartisan student advocacy organization, and Chicago Votes, a nonpartisan civic engagement organization that works to empower youth from under-represented communities in Chicago. She is an active member of the Political Science Student Union on campus, and the Student Advocacy group, a collaboration of the Graduate Student Council, Illinois Connection, Political Science Student Union, University Ambassadors, and Undergraduate Student Government.
Allyson is also a student delegate from College Debate 2016 (CD16), which is a nationwide nonpartisan movement to engage and represent millennials in our current political system. CD16 held a recent town hall at Dominican University in San Rafael, California, in order to appeal to the presidential debate monitors to include questions formulated by this group. Through a social media blitz #collegedebate16, the students continue to push forward their agenda items.
During the UIC Spring 2016 semester, Allyson helped to organize and led a discussion panel with local legislators on Automatic Voter Registration.  She's also actively encouraging other students to become more involved in civics.  This past month Allyson organized and led the Bring It To The Table event, here at UIC.  This event created an opportunity for students to engage in open, productive dialogue across party lines on difficult political issues. Bring It To The Table is a project that Allyson was introduced to at CD16 that challenges the current climate of hyper-partisanship in the American Electorate.
During this hyper-election season, Allyson continues to look for ways to inform others through social media.  She is currently staging a contest (complete with prizes) on Facebook Live called, "My Reason Why" that will continue through Friday, October 28th.  Students can participate by going live on Facebook (GO LIVE) to talk about "Why they plan to Get Out and Vote!"  More information can be found on the UIC Student Leadership Development & Volunteer Services Facebook page.  https://www.facebook.com/SLDVS/?fref=ts
Allyson expects to graduate in May 2017, and has been considering grad school, possibly for a Master of Public Administration degree. If she does decide to pursue a graduate degree, she says one thing is for certain: she will be attending UIC.
Modified on October 01, 2018