Student Highlight: Christopher Kooy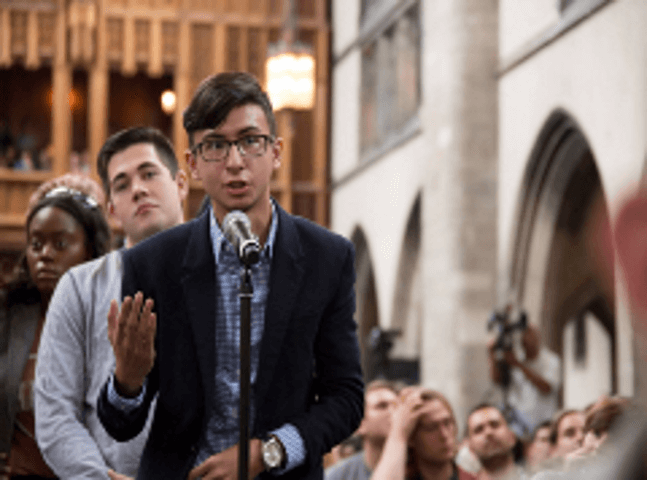 Christopher Kooy – Expected Graduation: May 2018
A sophomore majoring in both Spanish and Political Science, Christopher Kooy hails from the small town of Dixon, Illinois—hometown of President Ronald Reagan.
As a high school student, Chris became more passionate about history, law, linguistics, diplomacy and politics whenever he sat down with his mother and grandfather, who would enchant him with stories of their time coming from the impoverished highlands of Perú to work as government lawyers in the capital of Lima, or of how they had to flee the country when Sendero Luminoso began threatening government workers and waging war with the Peruvian government.
This led Chris to apply to the University of Illinois at Chicago. "It wasn't really that I immediately chose UIC, so much as UIC took the time and effort and sought out minority students from underrepresented counties in Illinois and had enough courage to believe in me.  They also offered me a financial award that allowed me to receive a college education in the first place," says Chris. "This, to me, is what UIC's commitment to diversity and inclusion is all about."
Studying politics and Spanish in such a culturally rich, vibrant, and intellectual city like Chicago was a dream come true for Chris. He was intent on immediately making an impact on his new community and giving back for all that he counted himself thankful for.
At the start of his undergraduate career, Chris immediately joined UIC University Ambassadors and began volunteering with Illinois JusticeCorps (a branch of AmeriCorps) at the Daley Center courthouse downtown. Through University Ambassadors, Chris was able to develop professionally while increasing campus pride at UIC and working to recruit students to go to Springfield for the annual Lobby Day, where students speak to their state legislators about the importance of funding for higher education. With JusticeCorps, Chris was able to use his native Spanish language skills to assist hundreds of pro-se litigants properly file legal documents and maneuver through the courthouse with less fear and intimidation.
As the president of the UIC Pre-Law Society, this year Chris and his team have been working hard to reach out to more pre-law students with opportunities for learning about the LSAT and the law school application process through things like an LSAT strategy session with Blueprint LSAT Prep and a UIC Alumni in Law School Q&A Panel. Chris was also a volunteer tax return preparer this year with the Center for Economic Progress, helping to file federal and state tax returns for low-income families in Chicago.
In his free time, Chris likes reading books about political history, theology, and economic theory, and asking Senator Bernie Sanders for a good book recommendation (pictured above).
In the future, Chris plans on applying to the Thomas R. Pickering Foreign Affairs Fellowship program, with aspirations of entering into the Foreign Service and one day becoming the Ambassador Extraordinary and Plenipotentiary of the United States to Perú.
Modified on August 09, 2018