Student Highlight: Scott Braam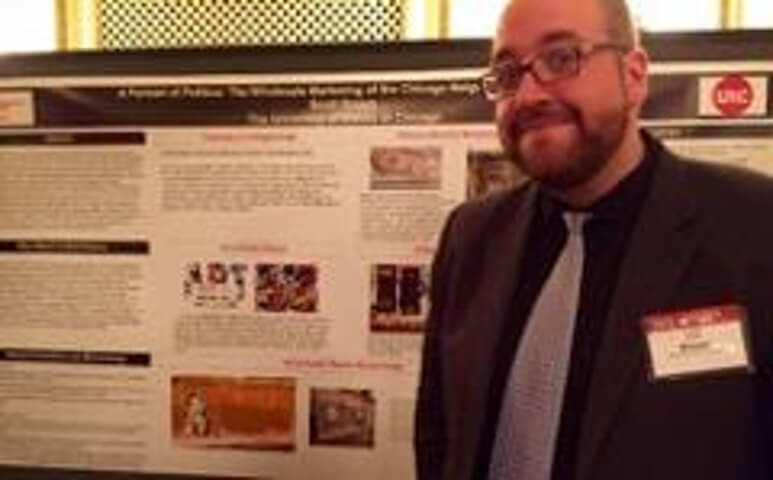 Scott Braam is a 4th-year candidate for the PhD in Political Science.  
He earned his BA in Fall of 2011, his Master's degree in 2014, and he is now studying for doctoral preliminary exams scheduled for Fall 2016.  He will ultimately become a UIC trifecta alum!
Scott is at the beginning of investigating possible dissertation topics that have to do with The Politics of Aesthetics.  He says he's "interested in the effects of negative representation via public policy on Chicago's neighborhoods, and conversely how neighborhoods use art to combat gentrification and systemic urban inequality."  Further, Scott says, "this research topic came about from a class project I led, regarding the politics behind public art in Chicago.   Eventually, I moved forward with this research topic with guidance from Dr. Amalia Pallares."  He first decided to pursue this topic for his Master's thesis, focusing on the neighborhood of Pilsen and the politics expressed in the murals there. 
Recently, Professor Sultan Tepe sent out a department-wide email about Scott's recent poster presentation entitled A Portrait of Politics: The Wholesale Marketing of the Chicago Neighborhood of Pilsen, which has been selected as the recipient of the MPSA 2015 Best Poster Award. The award is scheduled to be presented at the upcoming Midwest Political Science Association (MPSA) meeting, April 9, 2016. 
When asked about what he has learned from his research, Scott says, "I have learned that only through grassroots bottom-up activism, mobilization, and organization can Chicago neighborhoods see sustainable change. Civic engagement, participation, and education are vital components of this change."
Scott is hoping to pass his exams in August, and move on to his dissertation!
Modified on August 09, 2018