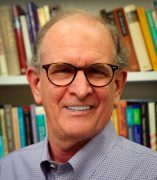 Robert Bruhl, PhD
Clinical Associate Professor
Political Science
About
Fields of Interest:
American Government, Legislative Politics, Voting and Elections, Economics, Economic Historical Analysis, Public Policy Analysis, Statistics, Research Methods, Strategic Analysis, Leadership, Group Decision Making
Notable Honors
1996, 1997, University Fellowship, University of Illinois at Chicago
1996, Travel Award, American Political Science Association
Education
PhD University of Illinois in Chicago
MBA University of Chicago, 1982
MS, Computer and Communication Sciences, University of Michigan, 1980
Selected Presentations
"Some Laboratory Observations on the Distributional Aspects of Decision-Making in Small Committees," Western Economics Association International Annual Meeting, 2009
"Some Observations on the 2008 Presidential Elections." January Meeting of the Meeting of the State University Annuitants of Illinois, 2009
"Economic Factors in U.S. Presidential Election Outcomes," Western Economics Association International Annual Meeting, 2007
"A Possible Solution to the Principal-Agent Problem Posed by the Contemporary CEO," Journal of Business Ethics December 2003
"Committee Decisions under Majority Rule: Some New Experimental Observations." Midwest Political Science Association, 2001
Research Currently in Progress
Understanding Statistcal Analysis.  A text emphasizing the reasoning behind statistical analysis
Understanding the American Government. A text focusing n the social, historical, and economic aspects of the American polity, with a special emphasis on policy formation.