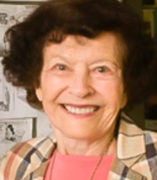 Doris A. Graber, PhD
Professor Emeritus
Political Science
About
Fields of Interest: 
American Politics, American mass media, Political Communication,Strategic communication.
Selected Activities and Honors:
Awards for academic excellence from: Kennedy School, Harvard, Washington University (St. Louis), Jiaotong University (Shanghai), American Political Science Association (APSA), Midwest Political Science Association (MPSA), International Communication Association (ICA) , National Communication Association (NCA), the University of Illinois at Chicago, and Phi Beta Kappa.
Selected Publications
On Media: Making Sense of Politics, Paradigm, 2011.
Media Power in Politics, (editor and contributor), CQ Press 2010 (6th ed.).
The Politics of News/The News of Politics (coeditor and contributor) CQ Press, 2008
The Power of Communication: Managing Information in Public Organizations, CQ Press, 2003.
Professional Memberships
Editor Emeritus of Political Communication.
Book Review editor, Political Psychology.