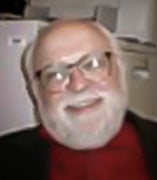 Richard M. Johnson, PhD
Professor Emeritus
Political Science
Contact
Office Phone:
Email:
About
Fields of Interest:
American Politics, Democratic Theory & Practice, Politics of Higher Education.
Selected Publications
The Dynamics of Compliance: Supreme Court Decision-Making from a New Prospective, Evanston: Northwestern University Press, 1967.
"Political Attitudes of Urban Blacks and Whites: Some Implications for Policy-Makers," (with Everett Cataldo and Lyman Kellstedt), in American Politics: Research and Readings, Holt, Rinehart & Winston, 1969, pp. 47-59.
"Democratization, Political Culture and the Role of the University," in Totalitarianism and the Challenge of Democracy, A.W. Jablonski and W. Piasecki (eds.), Politologia V, (1992), pp. 73-79.
"The Political Dimensions on the Management of Academic Support Services," Ch. 2 in Information Technology and the University,Beverly Lynch and William Jones (Eds.), Jossey-Bass, 1995.
Professional Leadership
Department Head (1969-72), Department of Political Science, UIC
Department Chair (1987-92), Department of Political Science, UIC
Associate Dean, Acting Dean (1972-74), College of Liberal Arts & Sciences, UIC
Vice Chancellor (1978-86), Academic Affairs, UIC
Education
PhD University of Illinois at Urbana, 1965
Research Currently in Progress
Processes of establishing sustainable democracy in U.S. and in nations undergoing political change.
The role of civic education in establishing democratic processes.
"American Politics Learning System," an approach to introductory American politics, with Gerald Strom.