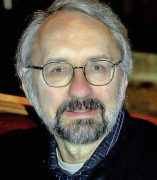 Andrew Rojecki
Associate Professor
Communication
About
Andrew Rojecki researches and teaches communication in three contexts: political movements,
racial politics, and globalization. He is the author of Silencing the Opposition (University of
Illinois Press, 1999) and co-author (with Robert Entman) of The Black Image in the White Mind
(University of Chicago Press, 2000). The Black Image won the Goldsmith Book Prize awarded by
the Kennedy School of Government at Harvard University (2002), the American Political Science
Association Robert E. Lane Award for the best book in political psychology (2001) and the Frank
Luther Mott--Kappa Tau Alpha Journalism/Mass Communication Book Award (2000).
His most recent book America and the Politics of Insecurity (Johns Hopkins University Press,
2016) analyzes the impact of the disruptions of globalization on American politics. His current
lines of research include a collaborative effort with computer scientists on a natural language
processing approach to textual analysis.
Professor Rojecki has published articles in Critical Studies in Communication; Media, Culture,
and Society; New Media and Society; and Political Communication. He has been awarded a
research fellowship by the School for Media and Public Affairs at George Washington University
and to the School of Theory and Criticism at Cornell University.