Student Highlight: Alberto Barraza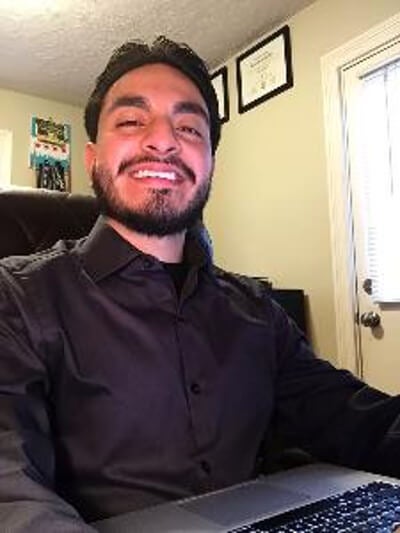 Alberto Barraza – Expected graduation:  May 2016
Alberto A. Barraza, will be a UIC graduating senior on Mother's Day weekend, May 2016.  Even before his high school graduation, he had his sights set on attending UIC for college.  Alberto admits that due to some setbacks, he was not very focused in high school and his grades plummeted.  He did finally get back on track, received his high school diploma, and was able to enroll in Wilbur Wright College.
While at Wright, Alberto worked full-time with the Chicago Housing Authority.  Even with a full-time job as an Inspector, he managed to graduate with high honors, becoming a member of Phi Theta Kappa honors society, and earning his Associate in Arts degree.  Finally, Alberto saw his dream come to fruition.  He applied to UIC where he was accepted to the Fall class of 2014.
Majoring in Political Science and minoring in Criminology, Law, and Justice, Alberto believes UIC has opened up a path for great opportunities.  While taking Political Science 101, he had the opportunity to volunteer as an election judge for the mayoral campaign of 2015 where he was able to get an inside look at the duties in a precinct polling place and see how election votes get processed.
Alberto was also a member of the award-winning UIC Mock Trial Team.  Through this experience he says, he "gained an understanding of trial practice and techniques, and oral advocacy through hands-on training."  During his senior year, Alberto took on an internship as an attorney's assistant at R.E. Law Chicago, a real estate law firm, to satisfy the requirements for the Political Science Experiential Learning course, POLS 301.  He did all of this while having a part-time job as the front office manager for HouseHold Inspection Team Inc.
The best news is that now that his internship has ended, Alberto has been hired as a part-time employee for R.E. Law Chicago! As if, being enrolled as a full-time student and managing two part-time jobs, wasn't enough, he is involved in the Political Science Student Union (PSSU) where he serves as an Executive Director. Alberto had this to say about PSSU, "With the help of all other e-board members of PSSU, we have managed to bring forward more civic engagement to UIC's campus, from Presidential campaign watch parties to Political Science study sessions, and Political Science Alumni Panels.  My main goal as the Executive Director is to ensure that the Political Science Student Union has a well-established voter registration team. One of the most effective ways to get others civically engaged is by getting them registered to vote."

Mr. Barraza is in the process of being admitted into the Pi Sigma Alpha honors society and will graduate Cum Laude with a Bachelor's Degree in Political Science and a minor in Criminology, Law, and Justice in May.  He says, "this will by far, be my biggest achievement, but more importantly, it is a step towards my main goal, which is to graduate law school and ultimately obtain a Doctor of Science of Law (J.S.D)."
Modified on August 09, 2018