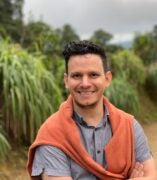 Juan Albarracín, PhD
Assistant Professor
Political Science
Contact
Building & Room:
BSB - Room 1110
Office Phone:
Email:
CV Link:
Related Sites:
About
Juan Albarracín is an assistant professor at the Department of Political Science at the University of Illinois, Chicago. Prior to coming to UIC, he was visiting assistant professor in the Keough School of Global Affairs (2021-2022), and an assistant professor and director of the Political Science Program at Universidad Icesi in Cali, Colombia (2018-2021).
His research focuses on the threats to political and civil rights in cases of mass-scale violence and extra-legal governance. In this sense, his work lies at the intersection of studies of democratization, criminal and political violence, criminal governance, and political institutions. He employs multiple methods ranging from experiments and quantitative analysis with observational data to case studies based on extensive fieldwork.
His current book project Criminalized Electoral Politics: Politicians and Criminals Subverting Democracy in Brazil tackles one of the most critical issues in contemporary developing democracies: the effect of criminal governance on democratic processes. He explains why politicians make alliances with criminal groups to repress political rivals and violently influence electoral outcomes in some Brazilian cities. This multi-method research project uses information gathered in over 18 months of fieldwork to show how robust local party organizations and autonomous civic organizations—often resulting from Catholic grassroots movements—prevent politicians from seeking alliances with criminal groups in some cities, while their absence incentivizes collusion in others.
In addition to criminal governance, he is also interested in the transformation of violence after transitions from authoritarian rule and/or armed conflict. In collaborative research projects, he explores how ideas of deservingness shape support for transitional justice in Colombia, as well as the impact of the implementation of transitional justice mechanisms on levels of criminal violence in new democracies. Together with colleagues in Colombia and Germany, he studies the political logic behind post-conflict violence in Colombia, in particular the growth in violence against social movement leaders.
His research has received awards from the American Political Science Association, the Latin American Studies Association, and the Network for the Study of Drugs in Latin America (Redesdal), as well as support from the Inter-American Foundation (IAF), the Fulbright Commission in Colombia, the German-Colombian Peace Institute (CAPAZ), the Friedrich Ebert Stiftung in Colombia (Fescol), the German Academic Exchange Service (DAAD), among other fellowships and grants.
Professor Albarracín holds a PhD and an M.A. in Political Science from the University of Notre Dame, as well as a B.A. in Political Science and M.A. in Comparative Politics from the Universität Tübingen (Germany).
Education
PhD, University of Notre Dame, 2018
MA in Political Science, University of Notre Dame, 2013
MA in Comparative Politics, Universität Tübingen (Germany), 2009
BA in Political Science (Major) and Economics (Minor), Universität Tübingen (Germany), 2006
Professional Memberships
American Political Science Association (APSA), Latin American Studies Association (LASA), International Political Science Association (IPSA), Midwest Political Science Association (MPSA), Latin American Political Science Association (ALACIP), Latin American Peace Science Society (LAPSS), Colombian Political Science Association (ACCPOL).