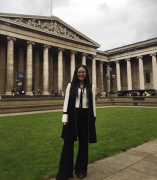 Ruolin FANG
Graduate Student
Political Science
About
Ruolin studies Urban Politics and Comparative Politics, and she is interested in questions such as how the great urban transformation influences political and public life, and why?
Selected Publications
Book Chapter: LAI Kaisheng, FANG Ruolin, WU Haiting, ZHANG Zhi'an, HE Linnan,(2016) Online City Groups: A Study on the Sentimental analysis of Chinese Internet Users in Cities. Blue Book on Social Mentality: A Study on Chinese Social Psychology, Beijing: Social Sciences Academic Press.
MPSA Lighting Talk,2019, Imbalanced Power Structure behind Chinese Urban Regeneration: A comparison of Two villager protests in Guangzhou
Education
• B. A. 2012.9-2016 .6 Journalism, Sun Yat-sen University, Guangzhou, China
• M. A. 2016.9 -2018.6 Public Administration, Sun Yat-sen University, Guangzhou, China
• M. A. 2017.9 -2018.12 Social and Political Theory, University of Birmingham, Birmingham, UK
Research Currently in Progress
Ruolin's current work is titled Middle Class Housing Precarity: An Assessment of San Francisco and Shenzhen. This research tries to probe the variation of the state-market transaction and state-civil society transaction in San Francisco and Shenzhen, which manifests their different reactions and policy outcomes of housing precarity.