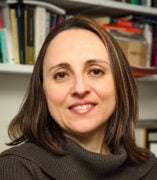 Alexandra Filindra, PhD
Associate Professor
Political Science
Contact
Building & Room:
1108D BSB
Address:
1007 W. Harrison Street
Office Phone:
Email:
CV Download:
Related Sites:
About
Alexandra Filindra is Associate Professor of Political Science at the University of Illinois, Chicago.  She specializes in American immigration policy, immigration decisions, racial prejudice and its effects on policy preferences, public opinion, political psychology and survey research.  Dr. Filindra received her PhD from Rutgers University and served as a post-doctoral researcher at Brown University's Taubman Center for Public Policy and American Institutions and the Center for the Study of Human Development. Her work has appeared in Political Behavior, Policy Studies Journal, State Politics and Policy Quarterly, Social Science Quarterly, Urban Affairs Review, Harvard Education Review, Migration Studies, International Migration and other scholarly journals. Her research has been supported by grants from the University of Illinois at Chicago, the Pew Center for the States, the Russell Sage Foundation, the Bill and Melinda Gates Foundation, and the Rhode Island Foundation. She is the recipient of two best paper awards from the American Political Science Association and the Lucius Barker Award from the Midwest Political Science Association.
Selected Grants
Russell Sage Foundation, Immigration Laws in the States (with S. Pearson-Merkowitz), 2015-17 ($133,000)
Pew Center for the States, Immigration Legislation in the States, 1990-2013 ($75,000)
UIC, Chancellor's Discovery Fund (with C. Bonam), 2014-2015 ($40,000)
UIC, Chicago Area Study (with N. Kaplan), 2013-2014 ($65,000)
Selected Publications
Filindra A., A. Manning, I. Pollert and S. Tobon-Palma (2021) Guns, Political Violence, and American Democracy in Black and White. Chicago, IL: University of Illinois at Chicago
Filindra, A. and N. Kaplan (2016) "Racial resentment and white gun policy preferences in contemporary America," Political Behavior, 38 (2), 255-275.
***Received the Lucius Barker award from the Midwest Political Science Association (2015)*** ***Received the best paper award from the Public Policy Section 2015 APSA Conference ***
Condon M., A. Filindra and A. Wichowsky (2015) "Immigrant Inclusion in the Safety Net: A Framework for Analysis and Effects on Educational Attainment," Policy Studies Journal, (December 19, 2015) doi: 10.1111/psj.12140
***Received honorable mention, Migration and Citizenship Section, 2016 APSA Conference***
Buckinx, B. and A. Filindra (2015) "The Case against Removal: Jus Noci and Harm in Deportation Practice," Migration Studies, (March 9, 2015)
*** Received the 2015 Best Article Award from Migration Studies (2016)***
Filindra, A. (2013) "Immigrant Social Policy in the American States: Race Politics and State TANF and Medicaid Eligibility Rules for Legal Permanent Residents," State Politics and Policy Quarterly, Vol. 13 (1): 26-48
Filindra, A. and S. Pearson-Merkowitz (2013) "Together in Good Times and Bad? How Economic Triggers Condition the Effects of Social Interactions between Groups," Social Science Quarterly, 94(5 December):1328-1345
Education
PhD in Political Science, Rutgers University, 2009