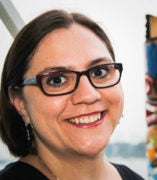 Katharine M. Floros, PhD
Clinical Assistant Professor
Political Science
Contact
Building & Room:
1170B BSB
Address:
1007 W Harrison St
Office Phone:
Email:
CV Download:
About
Fields of Interest:
International Relations, Civil conflict, Demography and conflict, Civil war negotiations, American foreign policy
Education
PhD University of Pittsburgh
Research Currently in Progress
"Demography and Domestic Power Transition: The Effect of Relative Identity Group Size on Civil Conflict"
"State Capacity and Recurring Civil Violence," (with Lingyu Lu).
"Comparing Civil Conflict and Terrorism:  Does Curing One Lead to the Other?" (with Matt Moore).
"Bargaining Strategies and the Failure of Civil War Peace Agreements," (with Heather Elko McKibben).