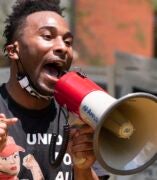 Troy Gaston
Graduate Student
Political Science
Pronouns: He/Him
Email:
CV Link:
Related Sites:
About
I am currently in my first semester as a Doctoral student studying Political Science. I recently graduated from Roosevelt University as a McNair scholar with a BA in Political Science and a minor in legal studies. Besides my academic studies, I served as the Vice President of Roosevelt Government Student Body.
Service to Community
With my academic training and personal experience, I have been a visible voice in my community as well as networking with others to develop social and poverty policies for already marginalized groups, particularly Black women. As an organizer for BLM Chicago and CAARPR Chicago Alliance Against Racist and Political Repression, I had the opportunity to organize in support for the Empowering Community for Public Safety (ECPS). ECPS is an ordinance that was recently passed in Chicago that called for civilian oversight over CPD. As a community organizer in Chicago, I have also advocated for social welfare opportunities such as increasing the minimum wages, housing assistance, making Juneteenth a national holiday, and providing the LGBTQ community with protection. Having this experience has advanced my efforts to be accurate, assertive, adaptable, and communicate with distinct cultures effectively.
Education
BA in Political Science and Government, McNair Scholar - Roosevelt University, Chicago, IL
Associates Degree in Liberal Arts and Sciences - Lake Land College, Mattoon, IL
Research Currently in Progress
My current work focuses on constructing and implementing policies which will speak to the extending warning of racial capital and political containment of marginalized and unstable neighborhoods. I am focused on organizing genuine issues that sometimes create irreparable hardships on community members. Particularly, the impacts of women residing in disinvested communities wherein Black men are captured under the expanding reach of mass incarceration. By organizing genuine issues that spotlight irreparable hardships on communities of color, we are better prepared in our efforts of collaborating with unfamiliar cultural histories to reevaluate our social construct.