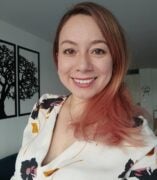 Angela Maria Hernandez
Graduate Student
Political Science
Email:
CV Link:
Related Sites:
About
I am a first-year doctoral student in Political Science and a Fulbright Scholar interested in Comparative Politics. I hold a bachelor's degree (B.A.) in Political Science and a postgraduate degree in Human Rights and International Humanitarian Law from the National University of Colombia. I also hold a Master of Arts (M.A.) in Global Studies from the Universities of Vienna (Austria) and Leipzig (Germany). I have teaching and research experience in diverse areas of Political Science and International Relations, including human rights, violence & conflict, and foreign policy with a focus on the Colombian context.
Service to Community
With professional experience in the public sector as an analyst and researcher, I have actively contributed to the implementation of Colombia's public policy for victims' comprehensive reparation and historical memory.