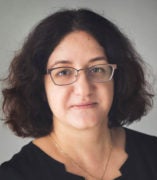 Petia Kostadinova, PhD
Associate Professor and Director of Undergraduate Studies
Political Science
Contact
Address:
1007 W. Harrison Street
Office Phone:
Email:
CV Link:
Related Sites:
About
Fields of Interest:
Comparative Politics, European Union, East Europe
Selected Publications
Kostadinova, P., & Giurcanu, M. (2019). Europarties' election pledges and European Commission legislative priorities: An assessment of their overlap. Party Politics. https://doi.org/10.1177/1354068818820646
Kostadinova, P. (2019) Influential News: Impact of Print Media Reports on the Fulfillment of Election Promises, Political Communication, 36:3, 412-425
Kostadinova, Tatiana and Petia Kostadinova. 2016. "Party Promises, Voter Understanding, and Mandate Responsiveness in East European Politics", Politics and Policy 44(1): 5-34.
Kostadinova, Petia and Magda Giurcanu. 2015. "Political Blackmail, Institutional Infighting and Electoral Politics: The Fate of Governing Parties during the Great Recession (2008-12) in Romania and Bulgaria", Politics and Policy 43(6): 789–821.
Kostadinova, Petia. 2015. "Party pledges in the news:  Which election promises do the media report?", Party Politics, first published on October 26, 2015 as doi:10.1177/1354068815611649
Kostadinova, Petia. 2015. "Improving the Transparency and Accountability of EU Institutions-The Impact of the Office of the European Ombudsman", Journal of Common Market Studies 53(5): 1077-1093.
Education
PhD Florida State University, 2002
Professional Memberships
Affiliate Faculty Center for East European and Russian/Eurasian Studies, University of Chicago.
Member of American Political Science Association, Midwest Political Science Association, European. Union Studies Association, and Association for Slavic East European and Eurasian Studies.