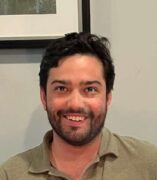 Marc Anthony Lopez
Graduate Student
Political Science
Pronouns: He/Him
About
I am a current Ph.D. student. I completed a Master's in Political Science and a Master's in Latin American and Latino studies at UIC. My favorite things to do are to play games (both video games and board games) and watch movies. Daredevil is my favorite superhero.
Education
MA in Political Science and MA in Latin American and Latino Studies - University of Illinois at Chicago, IL
Bachelor of Arts in Political Science Pre-law - Bridgewater College, Bridgewater, VA
Research Currently in Progress
My current research concerns political violence, civil war, and criminality. In particular, I am invested in conceptualizing large-scale criminal organizations and understanding their relationship with states.