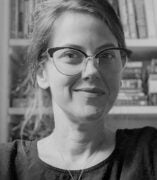 Andrea Manning
Graduate Student
Political Science
About
Andrea Manning is a Ph.D. candidate in the Department of Political Science at UIC, where she studies American Politics. Her research interests include Public Opinion, Political Psychology, Candidates & Campaigns, Political Parties, Public Policy, and the Politics of Identity. In her dissertation, Andrea uses Content Analysis, Surveys, and Experimental Methods to examine how gender attitudes work within and between partisan tribes. Andrea has held a number of research and teaching assistantships in the Department, including Introduction to American Government, Gender & Constitutional Law, and Introduction to Statistics. Currently, she is solo-teaching a course she developed on Women, Gender & American Politics.
Education
Andrea received her BA from the University of Illinois at Chicago, where she majored in Political Science and Public Policy.
As a Metropolitan Exchange Scholar, Andrea has also completed a number of courses at Northwestern University.
Research Currently in Progress
Andrea has a co-authored paper on racial priming and the effects of racial attitudes on public education policy preferences under review at Political Psychology. Other working papers include: "Gendered Issues or Partisan Priorities? The Policy Priorities of Men and Women at Partisan Think Tanks" with E.J. Fagan (UIC) and "The Confluence of Religion and Gender on the Campaign Trail" with Levi Allen (Notre Dame).