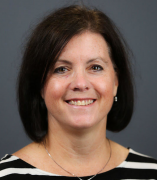 Maureen Heffern Ponicki
PhD Graduate
Political Science
About
Field: Comparative Politics and Urban Politics
Research question: How do cities bounce back from economic shocks and promote inclusive resiliency?
Awards:

The 2017 UIC John Echols Memorial Award for Best Graduate Paper in Comparative Analysis
2018 University of Illinois at Chicago Provost's Award for Graduate Research
2018 UIC Political Science Milton Rakove Memorial Fund Award for Graduate Research
UIC University Library Special Collections Graduate Student Fellowship (2018 – 2019)
2018 HOPE (Honoring our Professor's Excellence) Award
2019 – 2020 Dean's Scholar Fellowship Award
Prior to starting doctoral studies, Maureen worked in the nonprofit sector in the fields of international and community development both domestically and internationally. From work with migrant farmworkers to Peruvian working and street children to urban youth and foster children, Maureen has extensive experience at the grassroots level. Maureen wants to teach and share her passion for understanding our world with students. Her research interests are primarily focused on social and economic policy, international development, globalization, poverty and inequality, and methods of social change.
Education
MA in International Development and Economics (Johns Hopkins School of Advanced International Studies)
BA in International Studies (American University)
Research Currently in Progress
I am currently comparing three cities in the Americas to better understand how cities bounce back after economic shock. The primary comparison is between Buffalo, NY and Pittsburgh, PA and I have taken those findings to Córdoba, Argentina to evaluate if they operate in a Latin American context.