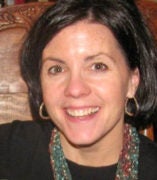 Maureen Heffern Ponicki
Graduate Student
Political Science
About
Maureen Heffern Ponicki is a PhD student focusing on comparative politics and urban politics. She has a BA from American University in International Studies with minors in Economics and Spanish and also a MA from Johns Hopkins School of Advanced International Studies with concentrations in International Economics and Social Change and Development. She speaks Spanish fluently and is constantly trying to improve her Portuguese.
Prior to starting doctoral studies, Maureen worked in the nonprofit sector in the fields of international and community development both domestically and internationally. She also taught international relations, political science, and economics classes at Wilbur Wright College as well as starting the college's first service-learning and soft skills program to boost community college student applied learning opportunities. From work with migrant farmworkers to Peruvian working and street children to urban youth and foster children, Maureen has extensive experience at the grassroots level. In addition, she has spent time working on global economic policy (especially trade policy), training volunteers for cross-cultural immersion programs, nonprofit strategic planning, fundraising and development, and lots and lots of program development and evaluation.
Maureen wants to teach and share her passion for understanding our world with students. Her research interests are primarily focused on social and economic policy, international development, globalization, poverty and inequality, and methods of social change.