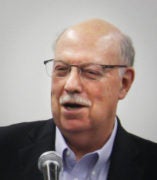 Dick W. Simpson, PhD
Professor Emeritus
Political Science
Contact
Building & Room:
1126C BSB
Address:
1007 W. Harrison Street
Office Phone:
Email:
About
Dick W. Simpson has uniquely combined a distinguished academic career with public service in government.
He began his academic career at the University of Illinois at Chicago in 1967, where he has taught for more than 50 years. At UIC, he received four of the highest awards for teaching including the UIC Silver Circle Award and the Teaching Recognition Program Award. He has been the principal researcher on important studies that have led to reform in many units of government in Cook County, Illinois.
During the past 50 years, Dick Simpson has published numerous studies on elections, voting patterns of elected officials, local government, public policy, and government budgeting. In his most recent book, The Good Fight: Life Lessons from a Chicago Progressive (2017), Simpson shares stories of his early life in Texas, his arrival in Chicago just in time for the 1968 Democratic National Convention, and moving accounts of his romances, marriages, and divorces. Simpson has many stories to tell from 50 years in the trenches of Chicago politics and as colleague, friend, and adviser to such personalities as Mayor Harold Washington, Studs Terkel, Don Rose, and Dawn Clark Netsch.
He is also author or co-author of more than 20 books on political action, ethics, and politics, including Winning Elections in the 21st Century (2016), The Politics of Compassion and Transformation (1989), Twenty-First Century Chicago (2015), and Rogues, Rebels, and Rubber Stamps (2001). He has produced seven films and video documentaries winning a variety of film awards including an EMMY nomination. Simpson has published more than 100 professional journal articles, magazine articles, book chapters, and book reviews.
Professor Simpson has received 28 grants and fellowships totaling more than a million dollars. He has served on numerous faculty committees and governing bodies at UIC, and as Director of Graduate Studies, Director of Undergraduate Studies, and Department Head in Political Science.
In the public service arena, Simpson surprised political observers when he won election as Chicago's 44th Ward Alderman in his first campaign for political office in 1971, despite a well-financed opponent with an army of precinct captains. As Alderman, Simpson consistently voted for and introduced reform and legislation – occasionally persuading old-line public officials to support his proposals as well.
Results include:
Elimination of bank redlining
Ending salary discrimination in the city budget for women holding the same jobs as men
Budget amendments to provide more money for daycare
Programs to help the homeless and the hungry
Extension of senior citizen public transportation hours
Simpson served the 44th Ward for two terms before voluntarily retiring in 1979.
As a private citizen and university professor, Dick Simpson continues to work in areas where he can put his ideals into practice. Simpson served on transition teams that advised Chicago Mayor Jane Byrne in 1979, Mayor Harold Washington in 1983, and Cook County Clerk David Orr and State's Attorney Jack O'Malley in 1990 and a number of elected officials since then. He helped shape their positions on ethics, fair hiring practices, citizen participation, and efficient, local government.
In 1992 and 1994, Dick Simpson ran for Congress in Illinois' 5th Congressional District opposing Congressman Dan Rostenkowski on a platform of congressional reform, women's rights, universal health care, economic recovery, and senior citizen's issues. In addition, Simpson has served as a political consultant on many campaigns for candidates from Alderman to President. He has also testified before city council, the state legislature, and congressional committees, and has frequently been an expert witness in federal court cases. Awards from many organizations including the City Club of Chicago, Clergy & Laity Concerned, Lakeview Shelter Team, and Clarence Darrow Community Center have recognized his extensive public service.
Please click on the following link for reviews of Simpson's new book The Good Fight: Life Lessons from a Chicago Progressive and the opportunity of ordering it: www.amazon.com.
Selected Publications
The City, Revisited: Urban Theory from Chicago, Los Angeles, New York.Edited with Dennis Judd (University of Minnesota Press, 2011).
Inside Urban Politics: Voices From America's Cities and Suburbs.(Longman, 2004).
Rogues, Rebels, and Rubberstamps: The Story of the Chicago City Council,(Westview, 2001).
Winning Elections: A Handbook of Modern Participatory Politics, (Harper Collins, 1996) new edition forthcoming, (Longman 2008).
The Crazy Quilt of Government: Units of Government in Cook County,1993, with Linda Moll (eds.), (University of Illinois at Chicago, 1994).
Professional Memberships
44th Ward Alderman, Chicago, IL 1971-1979.
Director of Preparing Future Faculty Program.
Former President, Illinois Political Science Association.
Former Co-Editor, Illinois Political Science Review.
Department Head, UIC Political Science, 2006 - present.
Research Currently in Progress
Chicago Politics, Urban Politics, Elections, State and Local Politics, Neighborhood Empowerment, Public Corruption.