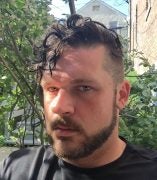 Daniel E. Williams
Graduate Student
Political Science
About
Daniel's areas of study are  American Politics, Interest Groups, LGBT Politics,  and African-American Politics
He is interested in questions such as:  How do historically marginalized communities navigate and form coalitions in lobbying?
How does intersectional bias between historically marginalized communities effect voting behavior and coalition building?
His awards include:
Ragsdale Fellow, UIC Department of Political Science, 2019
Dedicated Advocate of Equal Rights, Texas Transgender NonDiscrimination Summit, 2019
Barbara Jordan Scholar, Texas Southern University, 2018
Ally, Award, Houston Transgender Unity Committee, 2012
Leadership Award, Houston GLBT Political Caucus, 2011
Horizon Award, Houston Transgender Unity Committee, 2010
Daniel E. Williams comes from academia from a career in Texas politics where he advocated for LGBT issues in the Texas Legislature.
Education
• AA: Associate of Arts, Highest Honors, Major in Government, Houston Community College
• BA: Bachelor of Arts, Summa Cum Laude, Major in Political Science, Minor in Mathematics, Texas Southern University
Research Currently in Progress
Daniel is currently investigating racial bias in white LGBT voters and its effect on voting behavior.