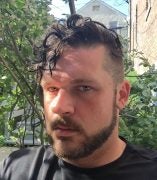 Daniel E. Williams
Graduate Student
Political Science
Pronouns: He/Him
About
Daniel E. Williams is a PhD student in Political Science at the University of Illinois - Chicago. His research focuses on Queer Politics within an Americanist context. Daniel's approach to teaching seeks to foster in students a "political science identity" - a sense that the student is someone who "does" political science and is recognized by others for doing so. Daniel comes to academia following a career in Texas politics.
Education
• AA: Associate of Arts, Highest Honors, Major in Government, Houston Community College
• BA: Bachelor of Arts, Summa Cum Laude, Major in Political Science, Minor in Mathematics, Texas Southern University
Research Currently in Progress
Daniel is currently investigating racial bias in white LGBT voters and its effect on voting behavior.